Application Containers
Introduction
This is a series of 11 hands-on labs designed to familiarize you with the Application Container functionality of Oracle Multitenant. In these labs, we follow the journey of a notional company, Walt's Malts as their business expands from a single store to a global powerhouse – "from startup to starship".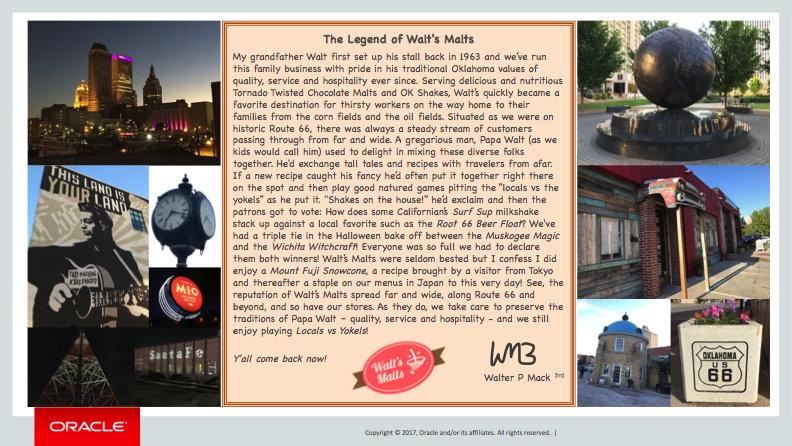 These labs will be run in SQL Plus or SQLcl. The lab scripts are in your VM in folder HOL/app_containers. Each lab in this series is run from a single script. These are intended to be run in sequence, as there are dependencies between the scripts. The eight scripts are as follows:
Format of Labs
These labs are in the "EasyLab" format, simulating what you might type in SQLPlus or SQLcl, but saving you the effort and distraction of transcribing from a workbook, so you can focus on what is happening. With EasyLab scripts, simply start the script, read what's happening and press [Enter] when ready to execute the next batch of commands. Ample explanation accompanies these commands to explain what we're doing.
Initialization
Before you begin, you need to set up the environment properly; with the CDBs properly initialized and the required database users in place. To do this, open a terminal window on your VM and issue the following commands:
Open a terminal window
Change directory to /u01/HOL/app_containers/
Source the environment. At command prompt execute source cdb1.env
sqlplus /nolog
At the SQL prompt execute SQL>@Setup_Lab0.sql
This will execute the scripts required to initialize the environment properly.
Oracle Users
We follow Oracle security best practices in that the passwords for default users Sys and System are locked and expired and two surrogate users are defined to be used in their place. Security best practices notwithstanding, all passwords for users in these labs are "secret"! The various users are summarized below.
| | | | | |
| --- | --- | --- | --- | --- |
| Username | Password | Common or Local | Scope | Admin Privileges |
| c##SysDBA | secret | Common | CDB1 & CDB2 | SysDBA |
| c##System | secret | Common | CDB1 & CDB2 | SysOper |
| wmStore_Admin | secret | Common | Application wmStore | |
| Terminal_Admin | secret | Common | Application Terminal | |
| wmAdmin | secret | Local | Application PDBs | |